August 10, 2022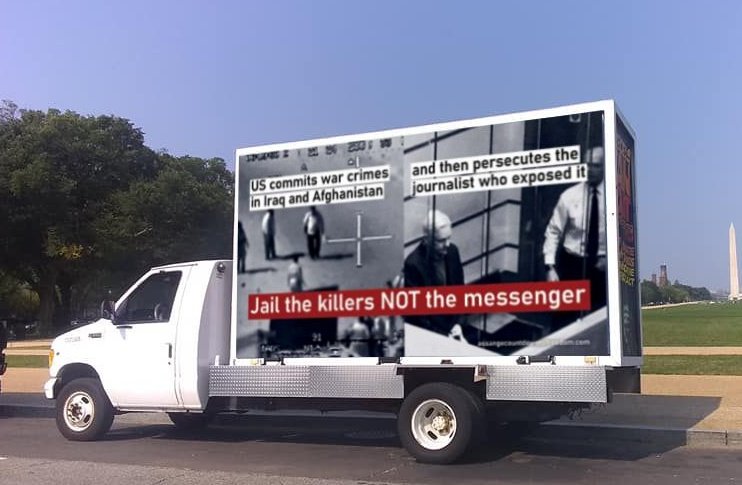 Roger Waters, the musical artist who was the chief lyricist for Pink Floyd, is on tour in North America. His show has a strong political emphasis. He was recently interviewed by a CNN reporter who called him a "mad man" for his political views, which are against U.S. wars.
Waters has also defended Jullian Assange, publisher of WikiLeaks, who the Biden administration is trying to extradite from the UK and potentially lock up for 75 years.
Waters will be performing in Washington, D.C. on Aug. 16. A moble billboard, with art from the Waters show, is currently touring D.C. One image regarding Assange exposing U.S. war crimes states: "Jail the killers NOT the messenger."
KEVIN GOSZTOLA, kevin@shadowproof.com, @kgosztola
Managing editor of Shadowproof, Gosztola reviewed Waters' show after he stopped in Milwaukee and recently produced a video critiquing how Waters was depicted in the CNN interview: "CNN's Attempt To Police Roger Waters." Gosztola likens the backlash to Waters' interview to how some professional athletes have spoken up on politics and were attacked for it. He argues that the mass media is effectively trying to brand artists like Waters in a way that limits the space for discussion on political issues and notes that the CNN interviewer had a particular issue with Waters labeling Biden a war criminal — without noting that his show depicts several U.S. presidents as war criminals.
Waters' last tour was largely an attack on Trump.
Gosztola has extensively covered and attended legal proceedings against Assange.
Waters was just interviewed by World Beyond War.
July 15, 2022 by journalist ·
Noam Chomsky: "The Institute for Public Accuracy has been regularly providing the media with informed and expert commentary on the crucial events of the day, compensating for the inevitable distortion and significant omissions that trace to reliance on official sources and on a narrow spectrum of opinion, among other factors. Apart from its constructive contributions to media comprehensiveness and accuracy, for individuals who are seeking a better understanding of evolving world events IPA has been an incomparable source of critically important news that had escaped notice or received inadequate or misleading coverage, as well as acute analysis that is hard to find or completely missing in the mainstream. Speaking personally, I have found it invaluable as a source of insight and information, and for leads to pursue that I would otherwise have missed."
[more]
July 26, 2019
Following being on a pair of accuracy.org news releases, FBI whistleblower
Coleen Rowley
and journalist
Aaron Maté
appeared on several programs just after Robert Mueller's long-anticipated testimony on Capitol Hill. See Rowley on
The Real News
, where, among other things, she gives critical background on Mueller. And see Maté on the
Jimmy Dore Show
and CGTN's "
The Heat
"scrutinizing much of the conventional wisdom on Russiagate.
[more]
July 5, 2018
After appearing in a recent IPA news release, Manuel Pérez-Rocha, an associate fellow at the Institute for Policy Studies in Washington, was quoted in the article "Trump and Mexico's New Leader, Both Headstrong, Begin With a 'Good Conversation'."
[more]
June 8, 2018
After appearing on an IPA press release, Kathy Kelly, co-coordinator of Voices for Creative Nonviolence and Nobel Peace Prize nominee, was interviewed by Democracy Now! today to discuss the significance surrounding Afghan President Ashraf Ghani's announcement of an unconditional ceasefire with the Taliban.
[more]
March 23, 2018
Thomas Drake, Katharine Gun, and other key 21st century whistle blowers featured in a special panel discussion sponsored last week by the Institute for Public Accuracy, on the radio program "Flashpoints," 15 years after Katherine Gun blew the whistle on U.S. dirty tricks to try influence the UN on the invasion of Iraq.
[more]
February 21, 2018
After appearing on an IPA news release, Pat Elder, author of
Military Recruiting in the United States
and director of National Coalition to Protect Student Privacy, @studentprivacy (studentprivacy.org) was interviewed this morning on Democracy Now! He spoke about the role of JROTC and the NRA in U.S. Schools, including the one that trained the Parkland Shooter, Nikolas Cruz.
[more]
February 1, 2018
Robert Parry, a tenacious investigative reporter and author who exposed details of the Reagan administration's secret support for Nicaraguan rebels in the 1980s, died on Saturday in Arlington, Va. He was 68.
[more]