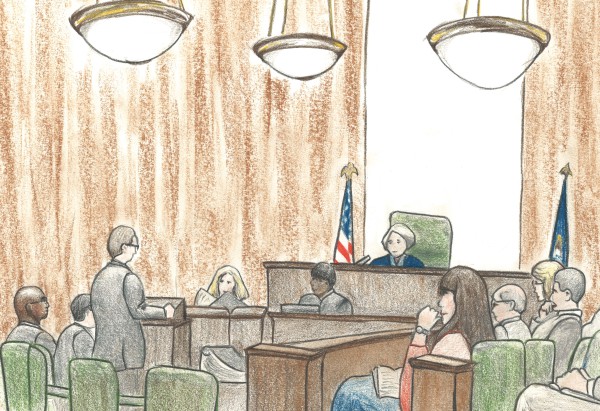 This afternoon CIA whistleblower Jeffrey Sterling was convicted of all nine of the remaining counts he was facing.
Special coverage continues from ExposeFacts — The Latest — providing in-depth news and analysis at: http://exposefacts.org/blog/the-latest
Marcy Wheeler reports: "The government engaged in a great deal of security theater during the Jeffrey Sterling trial, most notably by having some CIA witnesses — including ones whose identities weren't, technically, secret — testify behind a big office divider so the general public couldn't see the witness. But along the way, the government revealed a great number of secrets, including a number of secrets about how its counterproliferation programs work."
Norman Solomon writes: "Many of the two-dozen witnesses from the Central Intelligence Agency conveyed smoldering resentment that a whistleblower or journalist might depict the institution as a bungling outfit unworthy of its middle name. Some witnesses seemed to put Sterling and journalist James Risen roughly in the same nefarious category — Sterling for allegedly leaking classified information that put the CIA in a bad light, and Risen for reporting it. . . . If Sterling goes to prison, a major reason will be that the CIA leadership is angry about being portrayed as an intelligence gang that can't shoot straight."
Wheeler and Solomon — who wrote about the intertwined stories of Sterling and New York Times reporter James Risen in an in-depth article for The Nation — are available for a limited number of interviews.
MARCY WHEELER, emptywheel at gmail.com, @emptywheel
Wheeler writes widely about the legal aspects of the "war on terror" and its effects on civil liberties. She is the "Right to Know" investigative journalist for ExposeFacts and blogs at emptywheel.net.
NORMAN SOLOMON, solomonprogressive at gmail.com
Solomon is a co-founder of RootsAction.org and executive director of the Institute for Public Accuracy. He is the author of War Made Easy: How Presidents and Pundits Keep Spinning Us to Death.
ExposeFacts is a project of IPA.