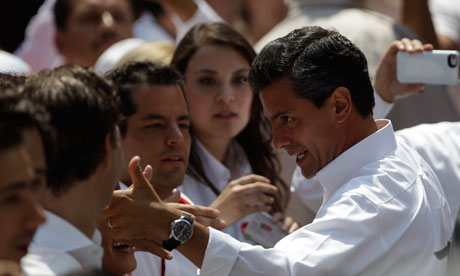 JOHN MILL ACKERMAN, johnmill.ackerman at gmail.com
Professor at the Institute for Legal Research at the National Autonomous University of Mexico, Ackerman said today: "Mexico apparently has decided to turn back the clock. Widespread frustration with twelve years of uneven political progress and stunted economic growth under the right-wing PAN [Party of National Action], has led to the desperate move of calling back to power the old guard PRI [Party of the Institutional Revolution]. Meanwhile, in a repeat of the last presidential race in 2006, the left-wing PRD [Party of the Democratic Revolution] has once again been left in a close second place.
"[PRI candidate] Peña Nieto also owes his apparent victory to the television duopoly which has literally fabricated his popularity out of thin air. The recent exposé by The Guardian of enormous secret contracts between him and the television companies for the purpose of promoting his image, are only the tip of the iceberg. Upon arriving in office, the new president´s first priority most likely will be to pay back this invaluable support through new laws and regulatory measures. Such a deal would also inevitably involve protection for the Peña Nieto administration from uncomfortable media oversight and accountability." See Ackerman's interview Monday morning on Democracy Now.
IRMA ERÉNDIRA SANDOVAL, irma.erendira at gmail.com
Irma Eréndira Sandoval is professor of political science and coordinator of the Anti-Corruption Laboratory at the National Autonomous University.
She said today: "Although the initial results seem to indicate that the old Party of the Institutional Revolution may have won the election, turnout was very high and the leftist candidate, Andrés Manuel López Obrador, received more votes (over 15 million) this time around than he did during the 2006 presidential election. In general, the majority of the anti-Felipe Calderon vote was directed towards López Obrador, and not towards the PRI. In addition, there is plenty of evidence that a great deal of the support for the PRI came from vote-buying and unfair support by the principal television stations. There does not appear to be a clear 'mandate' in favor of the PRI and, in order to govern, it will have to significantly modify its authoritarian tendencies and open itself up to criticisms from society, most importantly from the emerging student movement."
Also see: "Mexican Media Scandal: Secretive Televisa Unit Promoted PRI Candidate"