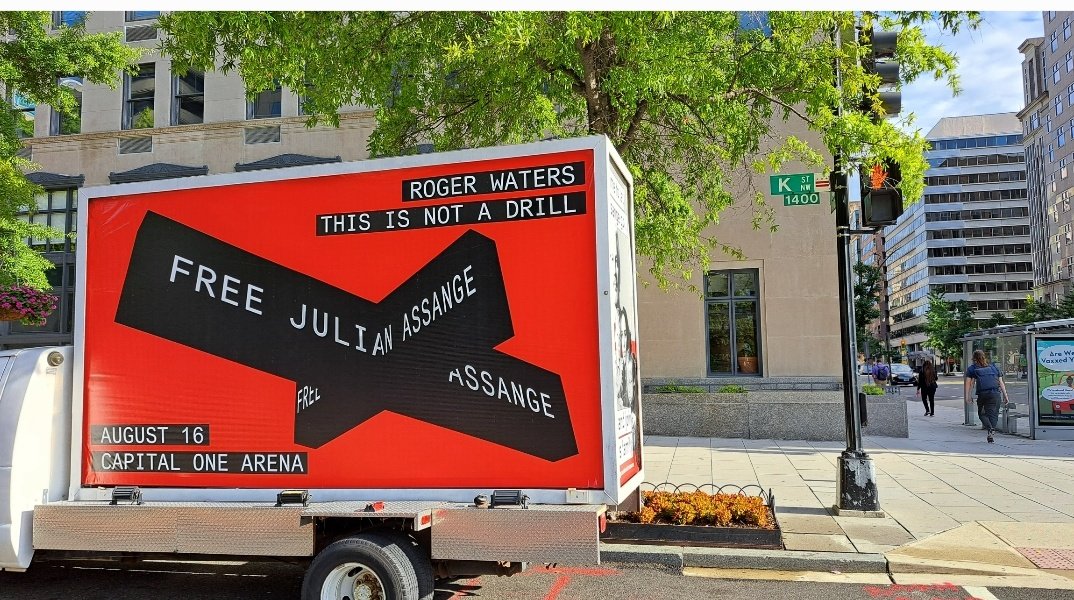 Reuters reports: "CIA sued over alleged spying on lawyers, journalists who met Assange." "Democracy Now!" reports: "Lawyers and journalists sued the CIA and former CIA Director Mike Pompeo Monday for spying on them while they met Julian Assange when he was living in the Ecuadorian Embassy in London, where he had political asylum. The lawsuit is being filed as Britain prepares to extradite the WikiLeaks founder to the United States, where he faces up to 175 years in prison for violating the Espionage Act by publishing classified documents exposing U.S. war crimes in Iraq and Afghanistan." The journalists include Charles Glass. The lawyers include Margaret Kunstler. Non-U.S. journalists were also targeted, like Stefania Maurizi, see below.
The British Telegraph recently reported: "Did the U.S. plot to assassinate Julian Assange? A judge wants answers from Mike Pompeo."
The noted musician and political activist Roger Waters, who was the primary lyricist for Pink Floyd, will be joining DC Action for Assange and Assange Defense on Wednesday to call on Attorney General Merrick Garland to end the persecution of Assange. The news conference and rally will begin at 12:30 p.m. ET (Constitution Ave. between 9th and 10th Streets, N.W.) and will be livestreamed.
Waters is on his current "This is not a Drill" tour and plays Washington, D.C. on Tuesday night. A mobile billboard with art from Waters' show is currently driving through D.C.
STEFANIA MAURIZI, info@stefaniamaurizi.it, @SMaurizi.
Maurizi is author of the new book Secret Power: WikiLeaks and Its Enemies. The Italian version of this book won the European Award for Investigative and Judicial Journalism and the Alessandro Leogrande Award for Investigative Journalism in narrative form. The English version will come out in November 2022 from Pluto Press with a foreword by the British filmmaker Ken Loach.
She said today: "What happened in the Ecuadorian Embassy in London is a complete scandal. It is a very sinister fact that a media organisation was targeted by espionage activities that you would expect in an authoritarian country. Together with the journalists who sued the CIA and the Spanish company UC Global, which allegedly spied on Julian Assange, on his lawyers and visitors, I am one of the heavily targeted journalists. They accessed all my devices, they filmed and recorded my meetings with Julian Assange, they unscrewed my phone, opening it in two, extracting the SIM card, taking pictures of the IMEI codes and of all my devices. I have sued UC Global in Spain. Unfortunately I could not join the attorneys and journalists who sued the CIA and UC Global, because I am not a U.S. citizen. I really hope the U.S. attorneys and the U.S. journalists will succeed in their legal case against the CIA and UC Global. I invite any person who has access to information on such spying activities and assassination plans to contact us to expose them."
Maurizi is an Italian investigative journalist working for the Italian daily Il Fatto Quotidiano. She has worked on all WikiLeaks releases of secret documents, and partnered with Glenn Greenwald to reveal the Snowden files regarding Italy. She has also interviewed A. Q. Khan, the father of the Pakistani atomic bomb, revealed the condolence payment agreement between the U.S. government and the family of the Italian aid worker Giovanni Lo Porto killed in a U.S. drone strike, and investigated the harsh working conditions of Pakistani workers in a major Italian garment factory in Karachi. She has started a FOIA litigation effort to defend the right of the press to access the full set of documents on the Julian Assange and WikiLeaks case.
ANN WILCOX, ann1.wilcox@gmail.com, @assangeactionDC
Wilcox is with DC Action for Assange.
CHIP GIBBONS, chip@RightsAndDissent.org, @ChipGibbons89
Policy director for Defending Rights & Dissent, Gibbons will also speak at the news conference. He said today: "Much of the world correctly views the attempted extradition of journalist Julian Assange as the United States government ruthlessly retaliating against one of its critics. Assange's persecution imperils not just the First Amendment in the United States, but press freedom globally." He can also comment on misreporting about the Espionage Act.