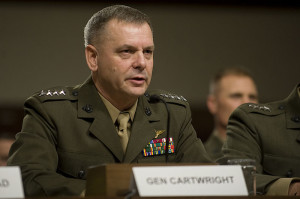 On the defensive about its threat to jail New York Times reporter James Risen for refusing to reveal a confidential source, the Obama administration is now facing new questions about why the Justice Department is prosecuting Risen's alleged source — while the alleged leaker of other nuclear-related classified information about U.S. intelligence operations in Iran, a top Marine officer known as Obama's "favorite general," has faced no prosecution.
In a new article, "A Tale of Two Alleged Iran Nuke Leakers," investigative journalist Marcy Wheeler writes that "both leaks served to provide important information about the ill-considered covert actions done in our name" — but "the leaks have not been treated the same."
"Unlike [Gen. James] Cartwright," she wryly notes, "Jeffrey Sterling didn't sit in on White House briefings."
Risen's alleged source, former CIA employee Jeffrey Sterling, is scheduled to go on trial soon on major felony charges. Cartwright, a former vice chairman of the Joint Chiefs of Staff, is not currently facing any prosecution.
New developments have escalated the controversy over the Justice Department's moves against Risen. (See recent stories by AP, McClatchy, AFP, Politico and U.S. News as well as the news conference by press freedom groups that aired on C-SPAN over the weekend.) Last week, 20 Pulitzer Prize-winning journalists issued individual statements, and a petition with more than 100,000 signers was presented to the Justice Department urging a halt to all legal action against Risen.
MARCY WHEELER, emptywheel at gmail.com
Investigative reporter Wheeler writes the "Right to Know" column for ExposeFacts (part of the Institute for Public Accuracy). She provides in-depth analysis of legal documents related to "war on terrorism" programs and civil liberties. To read her new article "A Tale of Two Alleged Iran Nuke Leakers," click here.
JESSELYN RADACK, jradack at whistleblower.org, @JesselynRadack
Radack is the director of National Security and Human Rights at the Government Accountability Project, a renowned whistleblower organization. Her program focuses specifically on secrecy, surveillance, torture and discrimination.
She said today: "James Risen's case is a prime example of how the war on whistleblowers has been a back-door war on journalists. Risen is being asked to testify against a source in yet another Espionage Act prosecution of a CIA whistleblower who allegedly exposed a botched CIA operation. If Mr. Risen faces jail or exorbitant fines for refusing to do so, the small pool of independent investigative journalists to whom whistleblowers can turn dries up even further."
Radack has been at the forefront of challenging the government's unprecedented "war on whistleblowers." She represents many of the whistleblowers being prosecuted under the Espionage Act, including Edward Snowden, Thomas Drake and John Kiriakou.
AHMED GHAPPOUR, ghappour at uchastings.edu
Ghappour is a professor at UC Hastings College of the Law, where he directs the Liberty, Security and Technology Clinic. He is outside counsel for the Freedom of the Press Foundation. He said today: "Mr. Risen broke no law gathering the news. He broke no law in proliferating the news, or in publishing his articles and books. Nor has the Justice Department made such claims. Nor does the government subpoena seek information from Mr. Risen to put an end to an existing threat, to stop a terrorist attack or an ongoing crime."
Ghappour added: "Mr. Risen's case makes it clear that national security journalists are faced with a Hobson's choice: either (1) practice a form of journalism consistent with the First Amendment, and face prison or bankruptcy; or (2) practice the form of journalism that the executive wants them to — releasing only the information that the executive deems fit for public consumption."
DELPHINE HALGAND, delphine at rsf.org
Halgand is the U.S. director of Reporters Without Borders. She advocates for a wide range of journalists and media rights worldwide.
Halgand said today: "The United States is ranked at the 46th position in the Reporters Without Borders 2014 World Press Freedom Index. One explanation for the United States to be ranked at the 46th position: The whistleblower is the enemy. Eight alleged whistleblowers have been charged under the Espionage Act since Barack Obama became president in 2009, which is the highest number under any previous administration combined. Leaks are the lifeblood of investigative journalism, given that nearly all information related to national security is considered secret. It is safe to say that this crackdown against whistleblowers is designed to restrict all but officially approved versions of events. These developments highlight the need for a comprehensive federal shield law in the U.S. which could protect journalists' sources at the federal level."