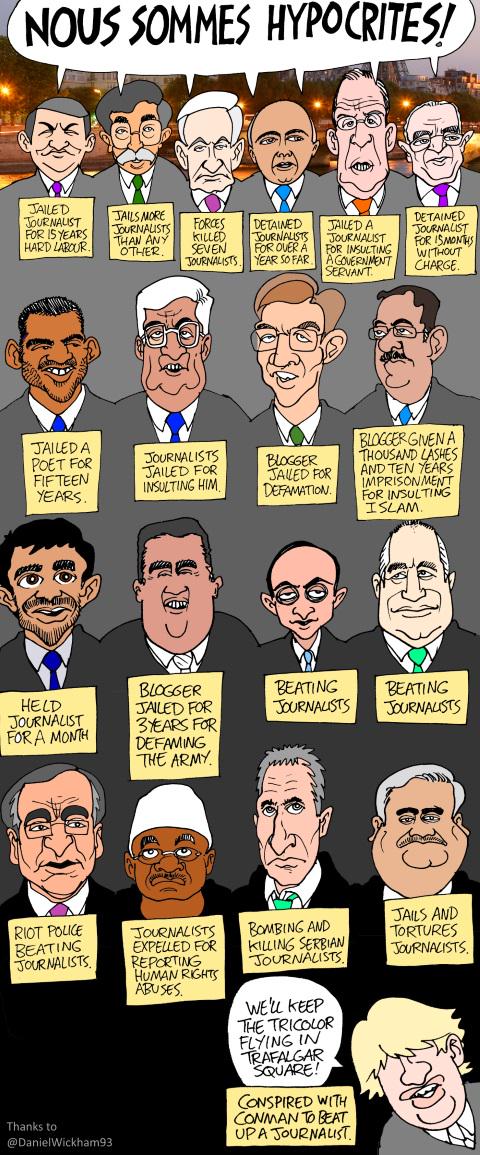 The piece "These 'staunch defenders' of the free press are attending today's solidarity rally in Paris" by Daniel Wickham features a string of tweets noting the hypocrisy of many of the officials who took part in the Paris march on Sunday, including figures from Saudi Arabia, Israel, Jordan and Bahrain. The following are able to speak about the record regarding freedom of expression and human rights of some of these officials.
MARYAM ALKHAWAJA, maryam.alkhawaja at gmail.com, @maryamalkhawaja
Among the marchers were the Saudi ambassador to France and foreign minister of Bahrain. Maryam al-Khawaja is co-director of the Gulf Center for Human Rights. Their recent statements include: "Saudi Arabia: Human rights defender Raif Badawi lashed in public," "Saudi Arabia: Prominent human rights lawyer Waleed Abu Al-Khair's sentence increased to 15 years in prison," "Saudi Arabia: Maysaa Al-Amodi and Lujain Al-Hathlol to appear before the Terrorism Court for driving a car" and "Bahrain: Human rights defender Mohammed Al-Maskati sentenced to 6 months in prison." Maryam al-Khawaja's father is Abdulhadi al-Khawaja, is in jail in Bahrain for his pro-democracy work — designated a prisoner of conscience by Amnesty International. Last month her sister, Zainab al-Khawaja, was sentenced to three years in prison for tearing up a picture of the king.
REEM KHALIFA, reemkhalifa17 at gmail.com, @Reem_Khalifa
A journalist in Bahrain, Khalifa said today: "We have 12 freelance photojournalists in jail. Only three of them were convicted — one is serving 10 years. Many were tortured. The camera is a tool that the government of Bahrain fears. In 2011 publisher Karim Fakhrawi was tortured until death. In 2012, Ahmed Ismail was killed by a gun while he was filming. … Human rights defender Nabeel Rajab, who was in jail for posting a tweet criticized the prime minister and minister of interior. Now after spending two years in jail, Rajab was released and he is facing another trial and verdict to come on Jan. 20." Also see: "Hussain Jawad Case Presents Bahrain With Key Test on Speech" by Brian Dooley of Human Rights First.
ALI ABUNIMAH, aliabunimah at mac.com, @AliAbunimah
Israeli Prime Minister Benjamin Netanyahu and Mahmoud Abbas, chairman of the Palestine Liberation Organization, were prominently featured forming a line along with French President François Hollande and German Chancellor Angela Merkel. See: "Netanyahu crashes Paris unity march, French gov't fumes."
Available for a limited number of interviews, Abunimah is co-founder of the Electronic Intifada website and author of the book One Country: A Bold Proposal to End the Israeli-Palestinian Impasse. He recently wrote "Israel world's second most lethal country for journalists in 2014, watchdog says," which states: "The Committee to Protect Journalists puts the number of Palestinian reporters and media workers killed during the Israeli assault on Gaza [last year] at at least 15."
Abunimah also just wrote the piece "Israel moves quickly to exploit Paris attacks," which states: "While Netanyahu was certainly playing to a domestic audience, his presence in Paris is also part of Israel's swift move to capitalize on the horror in France on a number of fronts: to attack the Palestinians, to sharpen the dangerous discourse of a 'war of civilizations' and to speed up the population transfer of Jews from Europe."
PETE MOORE, pwm10 at case.edu
Also prominently in the "first row" of the march was King Abdullah of Jordan with his wife Queen Rania. Professor of political science at Case Western Reserve University, Moore is author of Doing Business in the Middle East: Politics and Economic Crisis in Jordan and Kuwait.
Daniel Wickham notes that Jordan "last year sentenced a Palestinian journalist to 15 years in prison with hard labor." Also see: "Jordan puts Brotherhood politician on trial over UAE comments."
See piece by Jordanian analyst Hisham Bustani: "Before 2012, it was the virtue of the ultra-brave to publicly criticize the king and the royal family: they usually spoke with evident hints and innuendo, but without going the full route to directly uttering the name of the king. Criticizing the king and the royal family was simply not tolerated under Jordanian law, and it is still punishable by one to three years in prison. The law incriminating this sort of criticism has perhaps the world's most absurd name for any legislation: literally, the 'Law on elongating one's tongue about the monarch'!"