JUNAID AHMAD, junaid.ahmad at lums.edu.pk
Ahmad is with the faculty of law and policy at the Lahore University of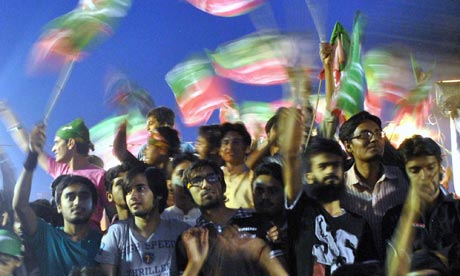 Management Sciences. He said today: "If this system of civilian democracy is to be sustained, there needs to be a dramatic reconfiguration of mainstream politics and political parties in the country. Imran Khan's political party is a positive sign in that direction. Otherwise, the mainstream political parties' corruption and absence of any vision for independence and self-respect for the country, and economic development, will provide a very easy opportunity for the military to come back to power — and ordinary people will be fairly indifferent.
"Washington has been working overtime establishing close links with all of the mainstream political parties, especially the PPP and the PML-N. It knows both of these parties are pro 'war on terror,' are pro neo-liberal market policies and generally take orders from the U.S. embassy in Islamabad. But I don't think this time Washington can stop the momentum around new political forces like Imran Khan's party (which is openly challenging drones and U.S. influence in the region) from taking Pakistan, slowly but surely, onto a more independent and self-respecting geo-political direction."
SAMEER DOSSANI, sameer.dossani@gmail.com, @sameerdossani
In addition to having family ties to Pakistan, Dossani has been researching and writing about military, religious, and cultural life in South Asia for the past 15 years. His articles include "Power and Patronage: The Political Economy of Pakistan."
He said today: "This has certainly been a more open election in Pakistan, but there are still severe limits. Imran Khan has been vocal about corruption, but has not put forward policy solutions to force transparency. His solution seems to be that he will be a strong leader as opposed to the corrupt leaders of the past, but that makes Pakistan vulnerable to a different kind of authoritarianism.
"The election coverage has understated the extent of U.S. involvement in Pakistani politics. Since Zia ul-Haq came to power in the late 1970s, Pakistan has been a key U.S. ally in the region. The full extent of CIA and other U.S. covert involvement in Pakistan is not known, but democratic accountability will remain elusive as long as U.S. money and influence continue to play such a large role.
"In terms of the limits of the political discussion in Pakistan, the biggest issue is ending the feudal system and having land reform. All the issues that do get talked about: women's rights, development, etc., are not going to make serious progress until that is meaningfully addressed."