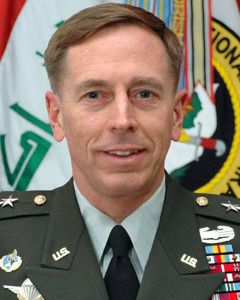 MARCY WHEELER, emptywheel at gmail.com, @emptywheel
Wheeler writes widely about the legal aspects of the "war on terror" and its effects on civil liberties. She is the "Right to Know" investigative journalist for ExposeFacts and blogs at emptywheel.net.
She just wrote the piece: "David Petraeus Gets Hand-Slap for Leaking, Two Point Enhancement for Obstruction of Justice," which states: "As a supine Congress sitting inside a scaffolded dome applauded Benjamin Netanyahu calling to reject a peace deal with Iran, DOJ [the Department of Justice] quietly announced it had reached a plea deal with former CIA Director David Petraeus for leaking Top Secret/Secure Compartmented Information materials to his mistress, Paula Broadwell.
"Among the materials in the eight 'Black Books' Petraeus shared with Broadwell were:
"'…classified information regarding the identities of covert officers, war strategy, intelligence capabilities and mechanisms, diplomatic discussions, quotes and deliberative discussions from high-level National Security Council meetings, and defendant DAVID HOWELL PETRAEUS's discussions with the President of the United States of America.
"'The Black Books contained national defense information, including Top Secret/SCI and code word information.'…
"For lying to the FBI — a crime that others go to prison for for months and years — Petraeus will just get a two point enhancement on his sentencing guidelines. The Department of Justice basically completely wiped away the crime of covering up his crime of leaking some of the country's most sensitive secrets to his mistress.
"When John Kiriakou pled guilty on October 23, 2012 to crimes having to do with sharing a single covert officer's identity just days before Petraeus would lie to the FBI about sharing, among other things, numerous covert officers' identities with his mistress, Petraeus sent out a memo to the CIA stating:
"'Oaths do matter, and there are indeed consequences for those who believe they are above the laws that protect our fellow officers and enable American intelligence agencies to operate with the requisite degree of secrecy.'"