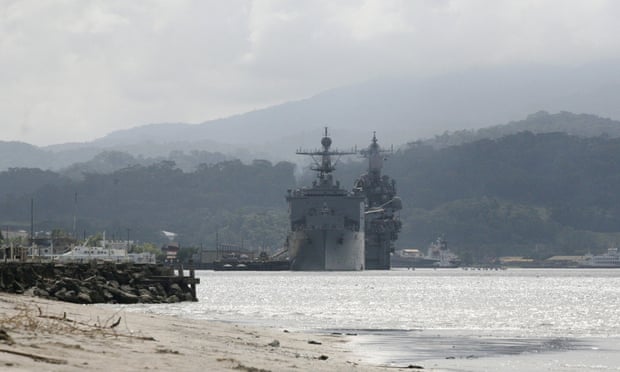 The Guardian recently reported: "Philippines reopens Subic Bay as military base to cover South China Sea."
AMIRAH LIDASAN, CYNTHIA JARAMILLO and BERNA ELLORIN, ateberns at gmail.com
Ellorin is a Filipino activist and the chair of BAYAN-USA, the New Patriotic Alliance, a group of 18 progressive Filipino organizations in the U.S. representing students, scholars, women, workers, artists, and youth.
Lidasan and Jaramillo are due to return to the Philippines shortly. Lidasan testified at the recently concluded International Peoples Tribunal on the Philippines: "Subic is not only a symbol of American control over the Philippines, it is symbol of abuses … and toxic waste that continues to destroy our environment." The Tribunal, in which Filipino Congressman Neri Colmenares participated, accused the Philippine President Benigno Aquino III of "gross human rights abuses, including war crimes, and violations to the Filipino peoples' right to self-determination and sovereignty." Participants also charged the U.S. government with facilitating these abuses.
Following the Tribunal in Washington D.C., hundreds of Filipinos, human rights advocates and supporters protested in front of the White House and the Philippine Embassy, demanding the U.S. halt the re-opening of Subic Naval Base as a U.S. military presence in the Philippines.
Jaramillo testified that her husband, Arnold, was one of nine unarmed men killed in a massive military operation that lasted almost a month conducted by the Armed Forces of the Philippines against members of the New People's Army. Jaramillo stated: "They were not killed during a legitimate running battle. The state of their bodies when recovered clearly indicated the torture, willful killing and desecration of the remains."
See Marjorie Cohn's piece in Truthdig: "The U.S. Aids and Abets War Crimes in the Philippines," in which she writes: "Arnold was taken alive and killed at close range by multiple gunshot wounds, his internal organs lacerated, his jaws and teeth shattered. This violates the Geneva Conventions and constitutes illegal extrajudicial killing off the battlefield."
Cohn also reports: "Thirty-one-year-old Melissa Roxas was a community health adviser who went to the Philippines in 2009 to conduct health surveys in central Luzon, where people were dying from cholera and diarrhea. In May of that year, 15 men in civilian clothes with high-powered rifles and wearing bonnets and ski masks forced her into a van and handcuffed and blindfolded her. They beat her, suffocated her and used other forms of torture on her until releasing her six days later. Roxas was continually interrogated and even threatened with death during her horrific torture. She was likely released because she is a U.S. citizen (she has dual citizenship). But WikiLeaks revealed that although the U.S. Embassy was aware of Roxas' torture and abduction, it did nothing to secure her release."