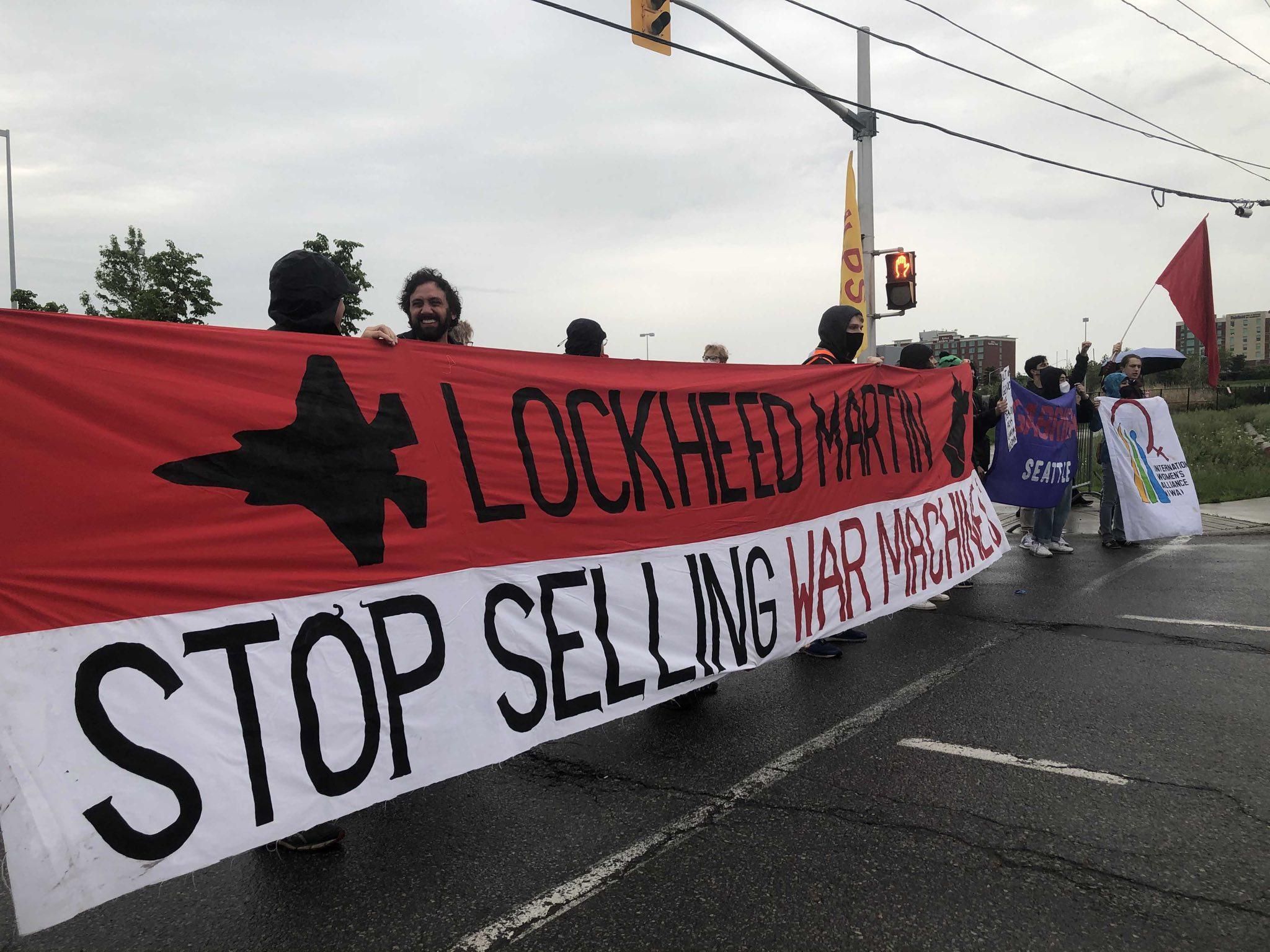 CommonDreams reports in "'Shut Down This War Machine': Peace Activists Block Entrances to Major Weapons Fair in Canada" that "More than a hundred anti-war campaigners traveled to Ottawa on Wednesday to protest outside of the E.Y. Center, where they obstructed access to the opening of CANSEC, North America's largest weapons and 'defense industry' convention.
"Carrying 40-foot banners with messages such as 'Blood On Your Hands,' 'Stop Profiting From War,' and 'Arms Dealers Not Welcome,' peace activists blocked multiple driveways and pedestrian entrances as attendees attempted to register for and enter the meeting just before Canadian Defense Minister Anita Anand's scheduled opening keynote address."
RACHEL SMALL, canada@worldbeyondwar.org, @WBWCanada
Small is an organizer with World Beyond War and has been a lead person in the protests. She said: "The same conflicts around the world which have brought misery to millions have brought record profits to arms manufacturers this year. These war profiteers have blood on their hands and we are making it impossible for anyone to attend their weapons fair without directly confronting the violence and bloodshed they are complicit in." The group highlighted the conflict in Ukraine and the Saudi war in Yemen, which is estimated to have killed approximately 400,000 people.
The group noted that "Lockheed Martin, one of the major sponsors of CANSEC, has seen their stocks soar nearly 25 percent since the start of the new year, while Raytheon, General Dynamics and Northrop Grumman each saw their stock prices rise by around 12 percent." CommonDreams reports: "With 'renewed great power competition' comes windfall profits, Lockheed Martin CEO James Taiclet told investors at the beginning of the year. At the same time, Raytheon CEO Greg Hayes — whose annual compensation package reached $23 million in 2021, up 11 percent from the previous year — told shareholders that 'we're going to see some benefit from' increased 'opportunities for international sales.'"